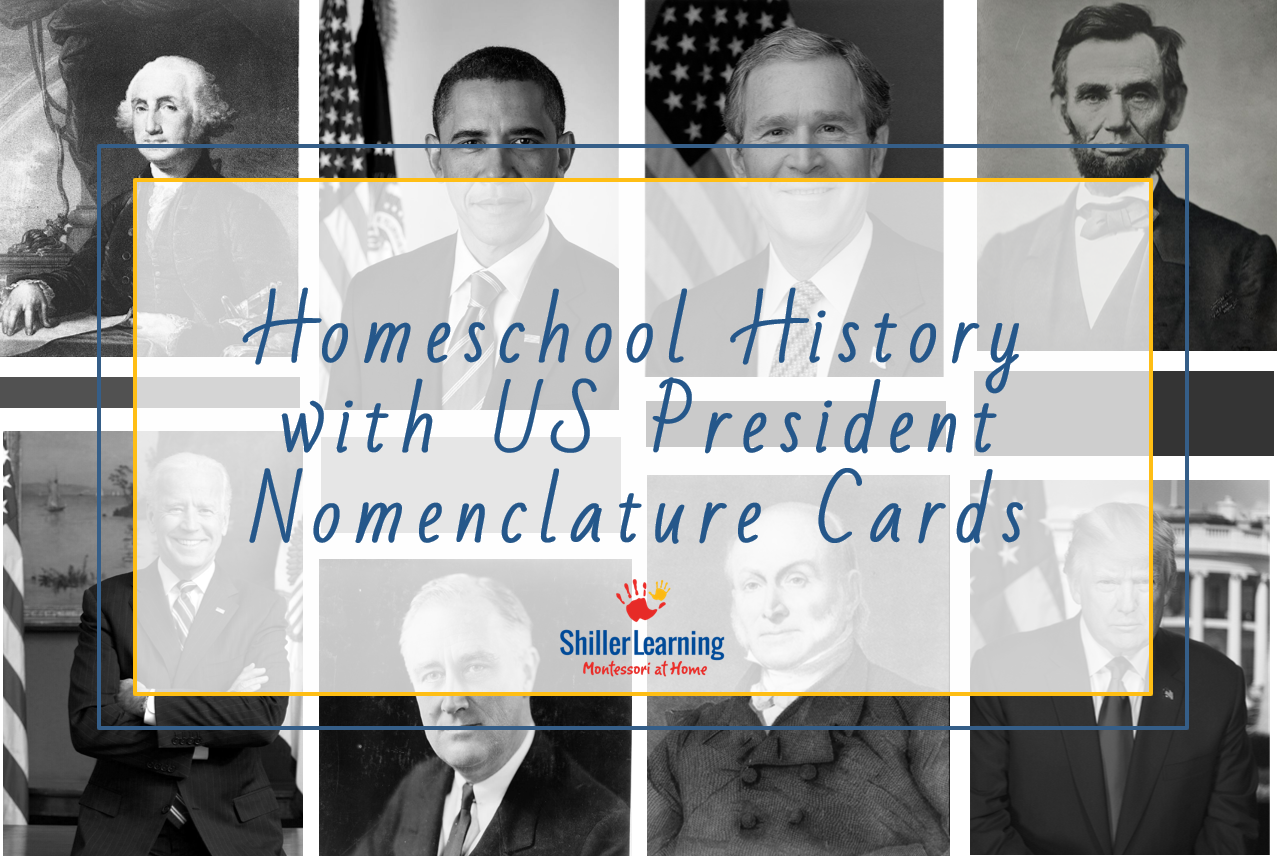 Homeschool History with US President Nomenclature Cards
---
A popular Montessori material for learning new words, definitions, and even historical figures is the nomenclature card, also called the 3-part card. Nomenclature cards are a simple way to make learning new information fun. ShillerLearning created a complete set of US President Nomenclature Cards to add to your homeschool history or language arts lessons.
---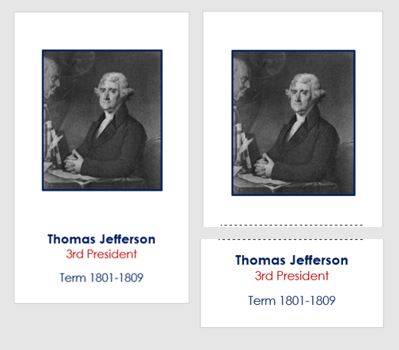 Nomenclature cards are cards with a picture and a word or phrase underneath the picture. They're used to help with reading, language development, vocabulary, object identification, matching, and yes, learning about historical figures. The cards are often printed on full sheets of cardstock, then cut apart. With budget, ease, and convenience in mind, this set is designed to be printed individually on unruled 3"x5" cards. The only cutting you will need to do is between the picture and label cards!  Download your set today to start or build your collection.
---
3"x5" cards can be found inexpensively online, at your local office supply store, or even some dollar stores. Alternatively, they may be printed 4-or-6-up on 8.5"x11" cardstock. Printing instructions are in the pack.
The beautiful ShillerLearning US President Nomenclature Cards are a perfect addition to your homeschool plans and work well for all ages. Typically first introduced in preschool and ideal for ages 3 to 6, nomenclature cards can be used throughout elementary.
How do you use nomenclature cards?

Nomenclature cards are introduced using the three-period-lesson. There are two cards for each president. The control card (or whole picture card) is the card without a line between the picture (in this case presidential portrait) and label (name of the president).

The other card will be cut along the line to separate the picture and label. Now you have the three parts (see where that 3-part card terminology comes from).

Depending on developmental level, some children will work only with the control cards; children who are emergent or fluent readers will work with both sets. Generally, three cards are introduced at a time. Once the child can match the label to the picture, subsequent groups of three new cards will be added to the work. Here is an example of how to use the US Presidents Nomenclature Cards.
For the non-reading child:
Lay the control card of George Washington in front of the child. Say, "This is George Washington."
Have the child repeat, "George Washington."




Continue with two more control cards (until you have three cards out).
Point to each card and say the name of the president.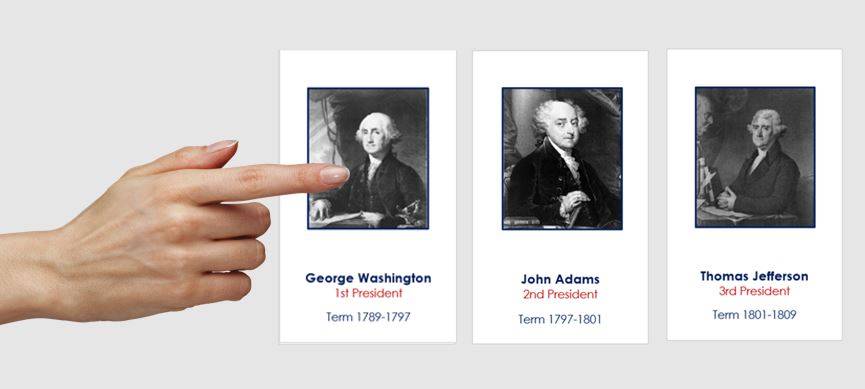 Rearrange the three control cards and ask the child to point to each president, "Can you show me Thomas Jefferson? Can you show me George Washington? Can you show me John Adams?" As the child becomes familiar with the pattern of the work, you can drop, "Can you show me" after the first request.
Once the child is able to show you all the presidents in that selection, point to a control card and ask, "Who is this?"
If your child is unable to give the name, you can just back up to the first step in the three period lesson and re-introduce it as if for the very first time (without any hints in your voice that we've covered this already).
Very young children may wrestle with correct pronunciation of names; this is ok and will correct over time.
Repeat the above steps with a unique combination of cards each time

until the child has competency and closure. This activity makes a nice compliment to ShillerLearning Language Arts Kit A.
---
For the emergent reader/reading child:
After completing the above, get out the cut picture and label cards for the three presidents.

Lay out three picture cards in order. With the randomly ordered label cards, select a label and see if the label matches the picture, one at a time, from left to right. Place the label below the matching picture.
Give the child the mixed picture and label cards to lay out in order and match the names to the proper presidential portraits as you just demonstrated.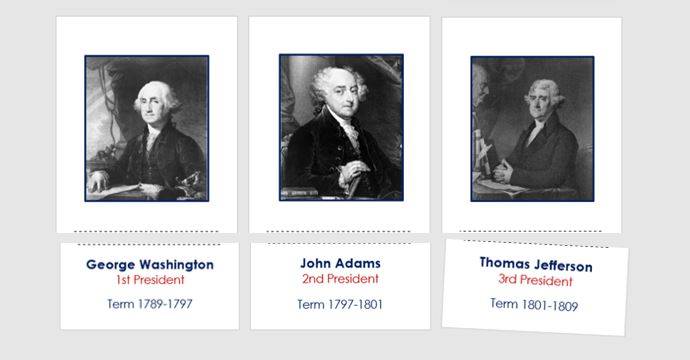 ---
The control card enables the child to self-check their work and control for error.
The child can practice as desired until the entire set can be matched.
---
---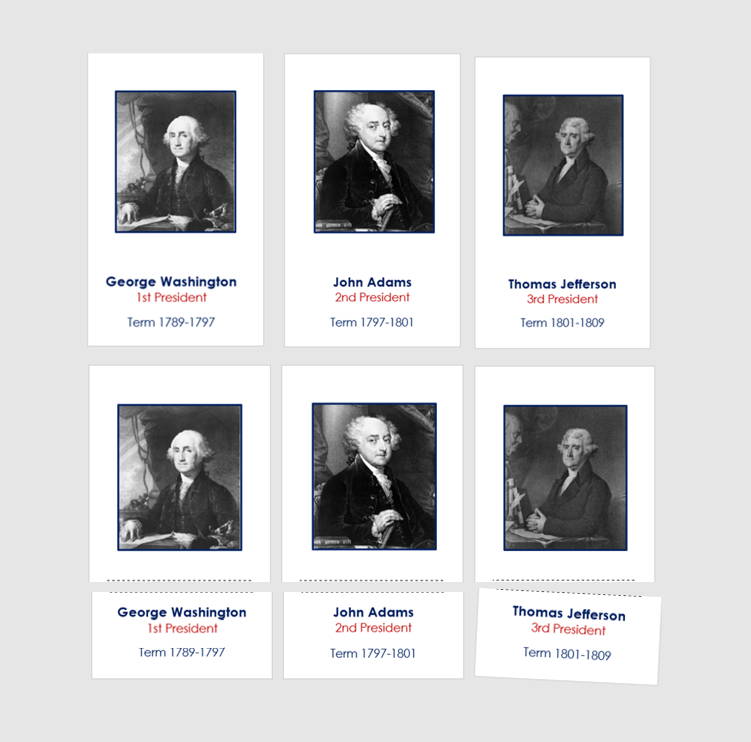 ---
US President Matching Game
To turn your nomenclature cards into a matching game, print a second set of the control cards. As with a standard matching game, players take turns turning over two cards in the hope of finding a match, until all matches have been made.

Add presidential flavor to your language arts curriculum while mastering alphabetizing skills. If you are my age, the library card catalog was where you polished your alphabetizing skills. Nomenclature cards provide a convenient material for practice of abc order. This activity is a nice compliment to ShillerLearning Language Arts Kit B. With the president cards, your student may alphabetize by first name; or last name; or by last name, first name. In the process, your child will take a walk through US history.

We'd love to see your students using the US President Nomenclature Cards. Tag us on Pinterest, Instagram, Facebook, or Twitter. Have an idea for the next set you would like to see? Comment below and let us know!

Want to learn more about the Three Period Lesson used to present nomenclature cards? Be sure to check out this video.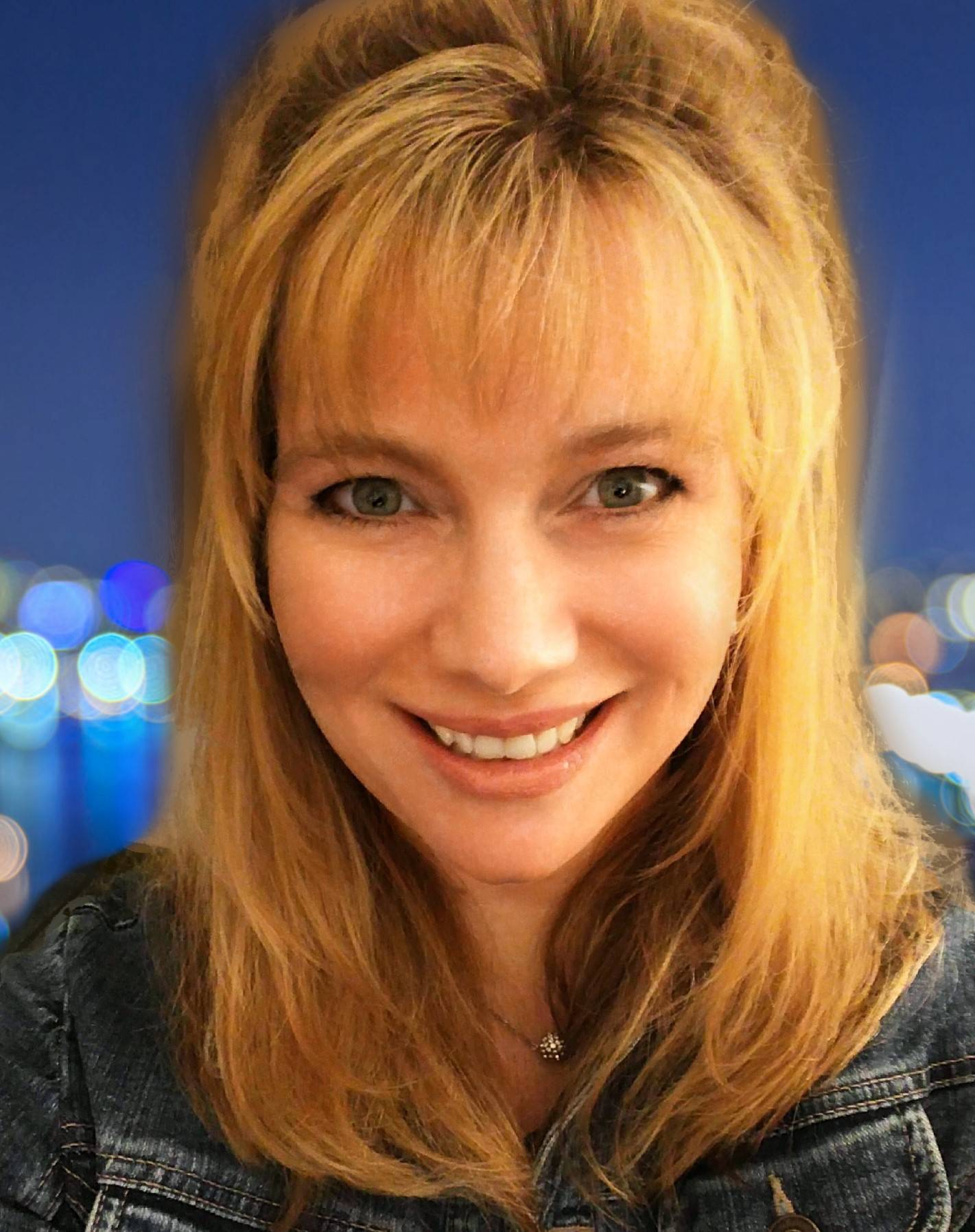 Veteran homeschool mom of five children (now ages 11 to 3 adults), Antoinette LaGrossa has been homeschooling since 2001. Having experienced her family's frustration with multiple math programs, Antoinette understands the struggle that can come with teaching math. Everything changed in 2004 when she tried ShillerMath. She quickly joined the ShillerLearning team and has been supporting home educators for almost two decades - sharing hands-on learning tips, encouragement, and practical experience from homeschooling five very different children (no cookie-cutter molds here). Antoinette speaks at conventions across the country and is host of ShillerLearning's Tuesdays@2.
Want to See Inside Our Montessori-Based Kits?
Language Arts Kit A (PreK/K-G1)

Language Arts Kit B (G1-G4)

---