Free "Listening Skills For Kids" Activity Book
---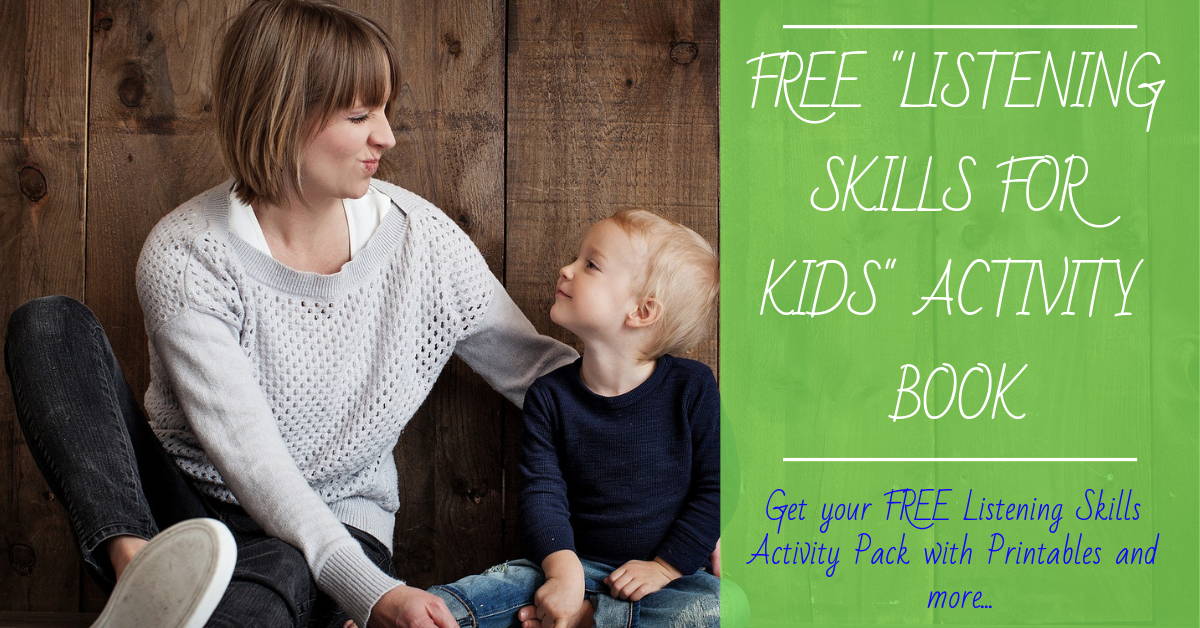 Working on listening skills with kids can feel like playing a broken record. We want our children to be attentive and aware. Yet we're not quite sure how to *get* our children to listen and comprehend. These important skills can be difficult to teach. I can't tell you how many frustrated parents I've talked to who say "My kids don't listen to me!"
If we're honest, we work on listening skills our whole lives. To this day I am still working on how to better hear and pay attention to the auditory input I have coming my way. Teaching our kids ways to listen, equipping them with comprehension skills, and helping them appreciate silence helps set them up for success.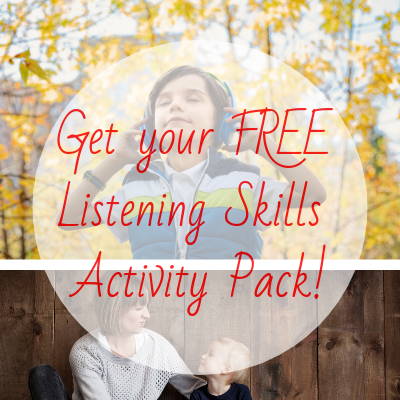 Tips For Teaching Listening Skills to Children
Appreciate Silence- Recent studies have shown immense benefits of silence for the human brain. In a society that is constantly receiving auditory stimulation, silence is more golden than ever before. By allowing times of silence in our homes, we can help build listening skills. Our brains benefit from a break from all the sensory input, especially children's brains! Plus when we embrace silence, we open our ears up to hear things we might otherwise not notice.
Repeat back- This one might seem silly. However, it's a key tenant of communication skills. It is a highly valued listening skill. Teaching our children to "tell back" what they've heard helps them listen more carefully. It also helps the speaker ensure everything has been heard appropriately. Asking children to tell back what they've heard during story time can be a great way to build this skill. For young children, you may need to have the child tell back every few sentences. As children get older- you can move up to every few paragraphs, every few pages, and every chapter. This skill can be added to conversations as well. It's especially helpful in conversations with details you don't want to be missed. Have your child tell back details in their own words so you're sure they are interpreting information as well.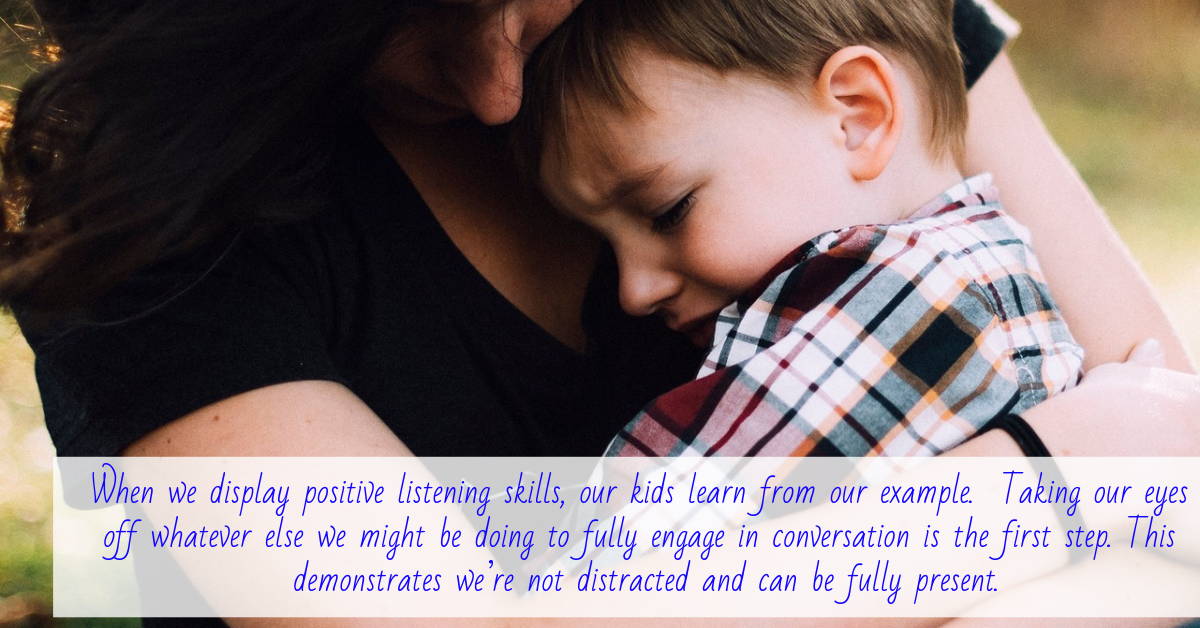 Give them your full attention- I get it, hearing about Minecraft for the bazzillionth time today is not exactly what you are interested in hearing about. However, our kids are watching. When we display positive listening skills, our kids learn from our example. Taking our eyes off whatever else we might be doing to fully engage in conversation is the first step. This demonstrates we're not distracted and can be fully present. How often have we asked our children a question while they were engrossed in a show only to realize later on they totally didn't hear us at all? One of the top reasons kids don't "hear" is because they're distracted and not actually listening. We may respond while watching TV or browsing Facebook. The truth is our minds are not fully aware and we're responded by rote habit, not true attentive listening. If we model attentiveness, eye contact, and active listening it helps our children become better listeners. It will also benefit communication in your home too.
Read-a-loud and audiobooks- Nothing can capture a child's attention better than a story! Sometimes one simply needs to sit in the middle of the room with children playing around them and begin to read. Soon a quiet fills the room and the children are lost in the story. By incorporating the other tips above, stories can build listening skills immensely.
Practice at home- Home is the best place to practice and build skills. Work on engaging your child in conversations they're interested in. Download our FREE Listening Activity Pack below for over a dozen activities to help build listening skills in the comfort of your own home! You'll find the classic Montessori Sitting in Silence activity, crafts, games, and more. Your children preschool all the way through high school can build listening skills. There are even activities that you may find a benefit from as well. Plus, a few activities can be incorporated on a regular basis in your homeschool.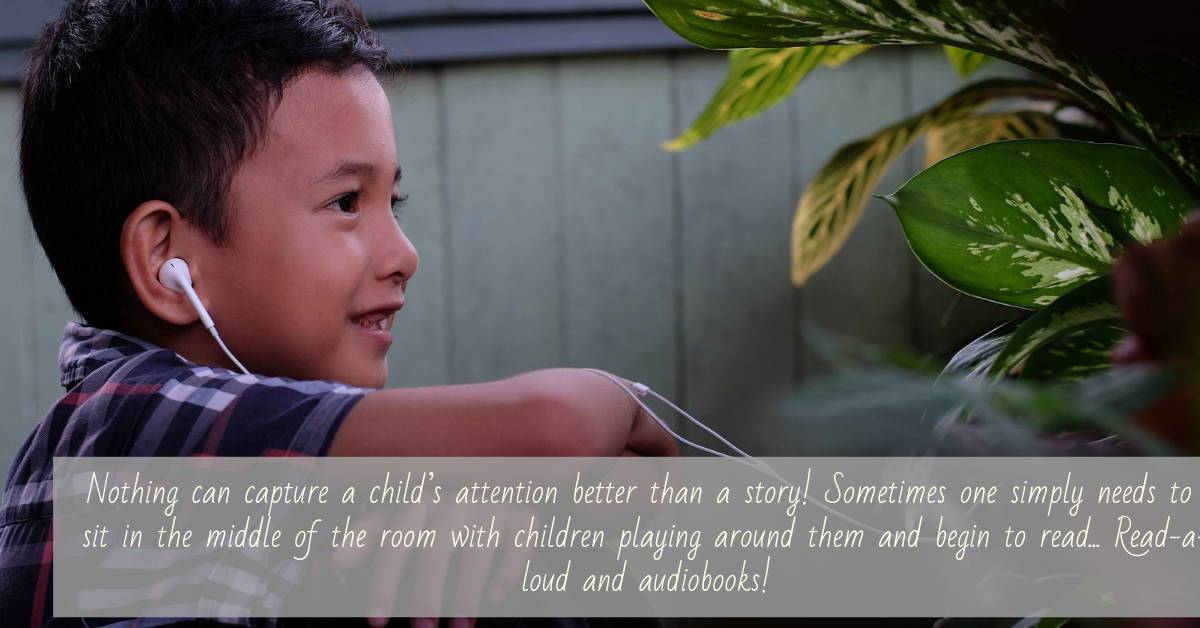 Refer to the ShillerLearning Parent Guide from your Math kit or at the beginning of each Language Arts books for more tips on engaging your child.
Like this?
Check out all our FREE activity packs here, we add a new one every month!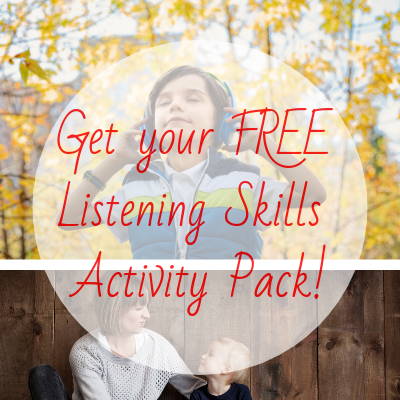 ---
See Inside Our Montessori-Based Kits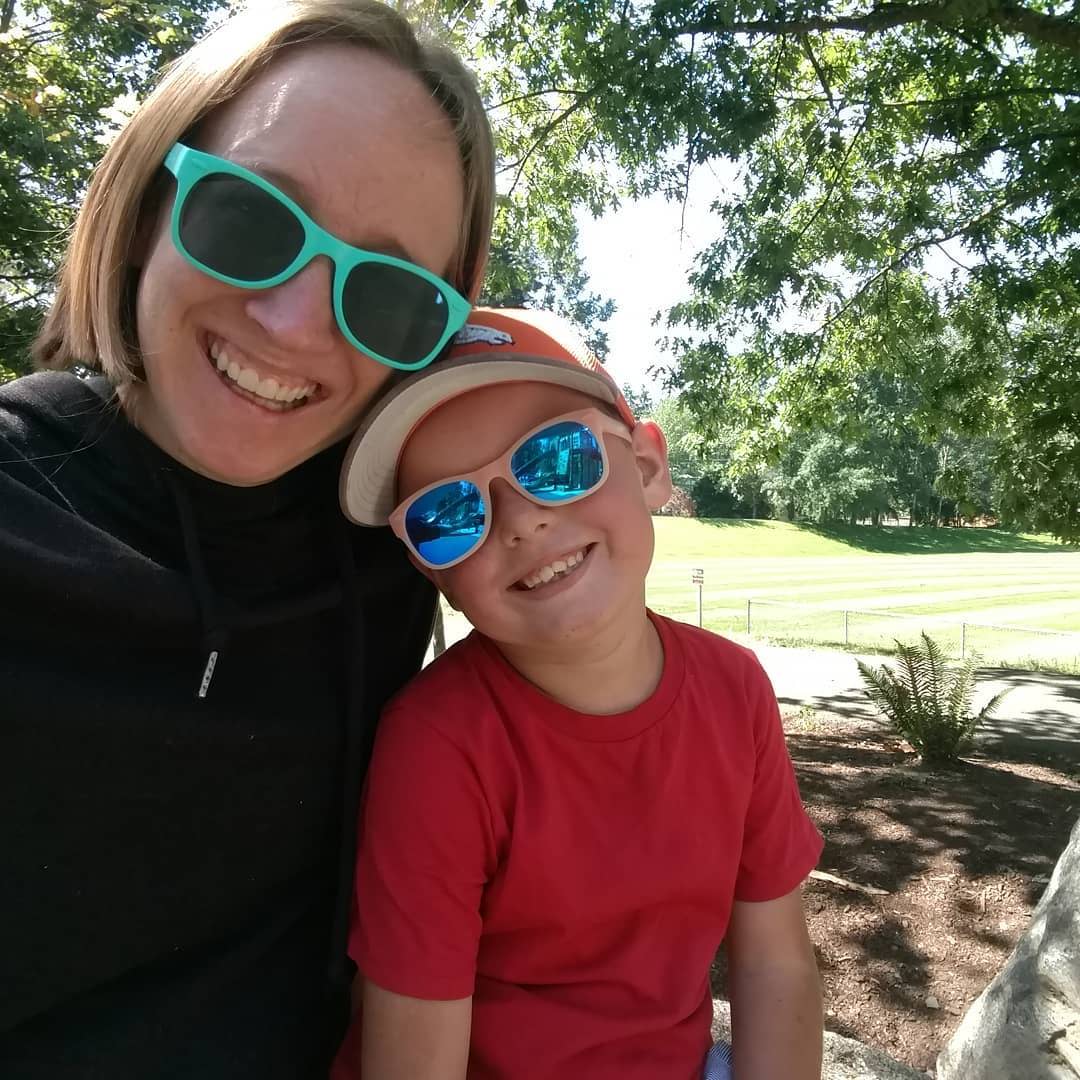 Amanda is a former Montessori teacher who is now homeschooling her only child, a seven-year-old boy. Her family resides in an Airstream that is parked in Washington. She loves Washington's outdoor opportunities. When she's not schooling, she also blogs at TreehouseDaily.com, works as a Virtual Assistant and loves reading and creating hand-lettering pieces.