Preparing for your family's Thanksgiving feast is a great way to spend time with each other and have fun! Thanksgiving brings family traditions that have been cherished for generations. For those who may not have space for extra bodies, consider creating an area such as the kitchen table for your child's workspace or offer a floor table.
In this blog post, we add a few practical life lessons to our Thanksgiving-themed homeschool shelves plus activities to help prepare the table where the family feast will be on display. Nut Grinding, Butter Churning, Thanksgiving Punch, Flower Arranging, Table Setting, Note Cards, Feather in the Top, and Water Transfer not only allow your preschool to early elementary child to participate in helping to prepare a Thanksgiving feast for all to love but will also develop muscles for writing and motor skills, learn about simple mechanics, and prepare for mathematics.
---
---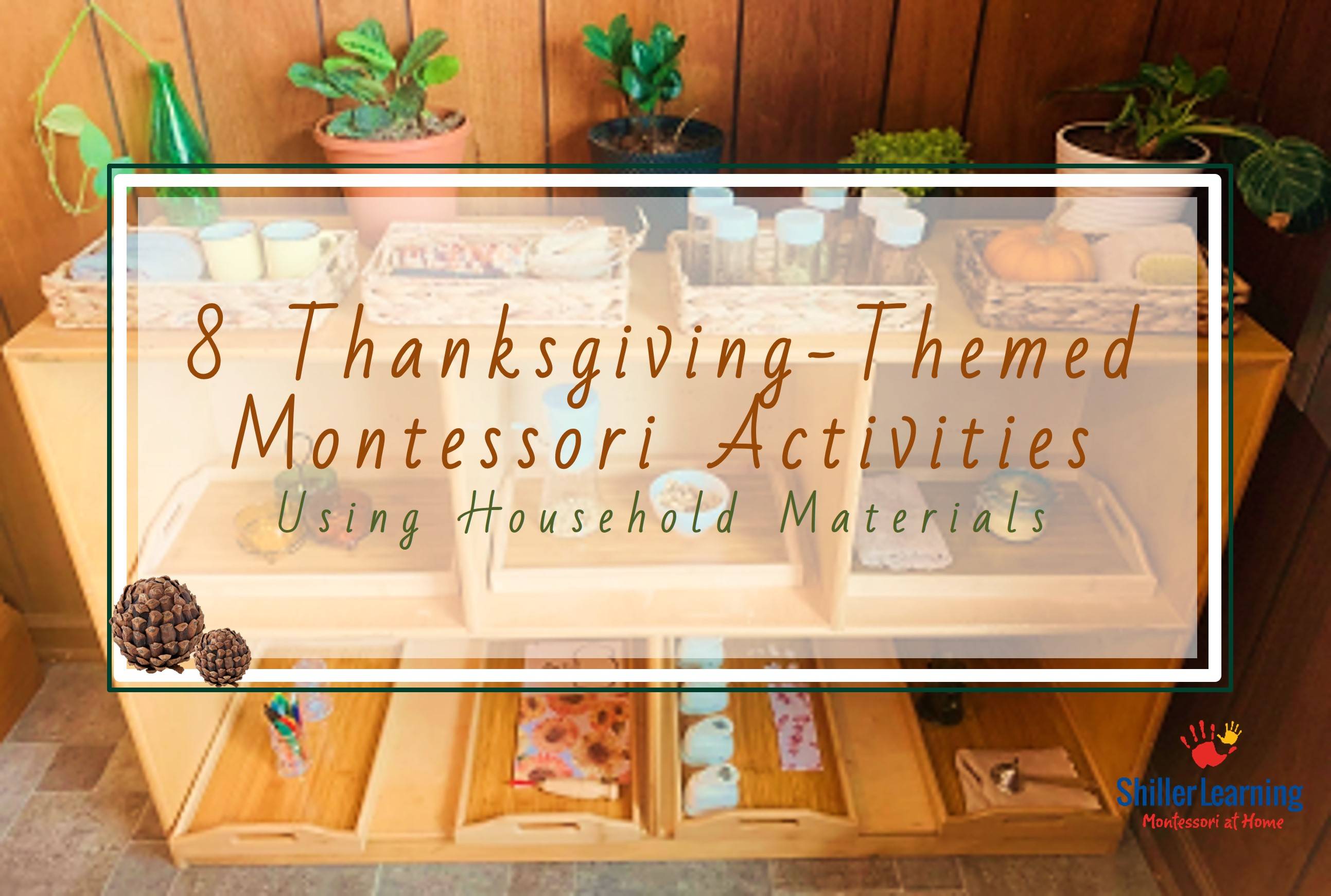 ---
8 Thanksgiving-Themed Montessori Activities Using Household Materials
Nut Grinding
What you need:
Nut grinder or a zip seal plastic bag with a small hammer

Nuts of your child's choice
What to do:
If you are using a nut grinder, simply add the nuts with no shell in the top of the grinder. Put the lid on and allow your child to crank the handle. Your child will notice the grinded nuts in the jar.
If you are using a plastic bag and hammer, put nuts without the shell into the bag and seal. Allow your child to use a hammer to crush the nuts in the bag.
One you have crushed nuts, feel free to store them for later use for Thanksgiving desserts, salads, or casseroles.
You may want to use them for a yummy snack such as caramel drizzled apples, topped with nuts.
---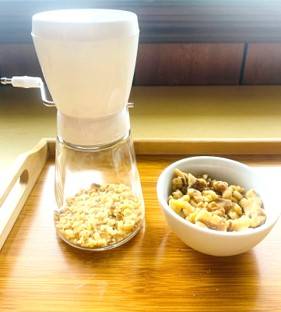 ---
---
Butter Churning
What you need:
Butter churner or mason jar (If you wish to cheat you can use a mixer.)

Heavy whipping cream

Cheesecloth or fine strainer
What to do:
Set the whipping cream out and allow it to warm to room temperature.
Once the cream is warmed to room temperature, then pour it in the mason jar, mixer bowl, or churn jar.
Shake or churn until the cream starts to thicken into a solid. This is where the mixer can come in handy. It takes a little bit before the process is completed.
Next, separate the liquid from the butter using a cheesecloth or strainer. Once all the liquid is separated, use an airtight container to store your butter.
---

---
---
Punch Activity
What you need:
Construction paper

Printed image

Cork board or carpet sample for local hardware store (this is just used to protect the surface you're working on from the puncher)

Pin punch or awl (found at a local craft store)
What to do:
In this activity, we use a printed image to punch holes to transfer the image onto a beautiful piece of paper. To start, have your child pick a printed image. Then put the cork board down on the table and place the construction paper on top of the cork board.

Then place the printed image on top of the construction paper. Have your child follow the black line on the image and punch small holes closely together to create the image on their construction paper.
---

---
---
Flower Arranging
What you need:
Assorted fresh flowers

Small vases

Funnel

Small creamer pitcher with water

Scissors

Towel for wiping any spills

What to do:
Have your child select the flowers they wish to use for the arrangement. Your child may use scissors to cut the flowers. Your child will need to measure to ensure the stems are at the desired height in the vase by holding the main flower next to the vase and trimming the stem accordingly.

Once your child has the flowers they wish to use, have them pour a small amount of water into the vase using the funnel and small pitcher of water. Now your child can arrange the flowers as they wish in their vase. Have your child put their new arrangement where they choose such as the kitchen table, coffee table, end table or maybe on the kitchen counter.

Be sure your child cleans everything up and places everything back on the shelf when they are done.
---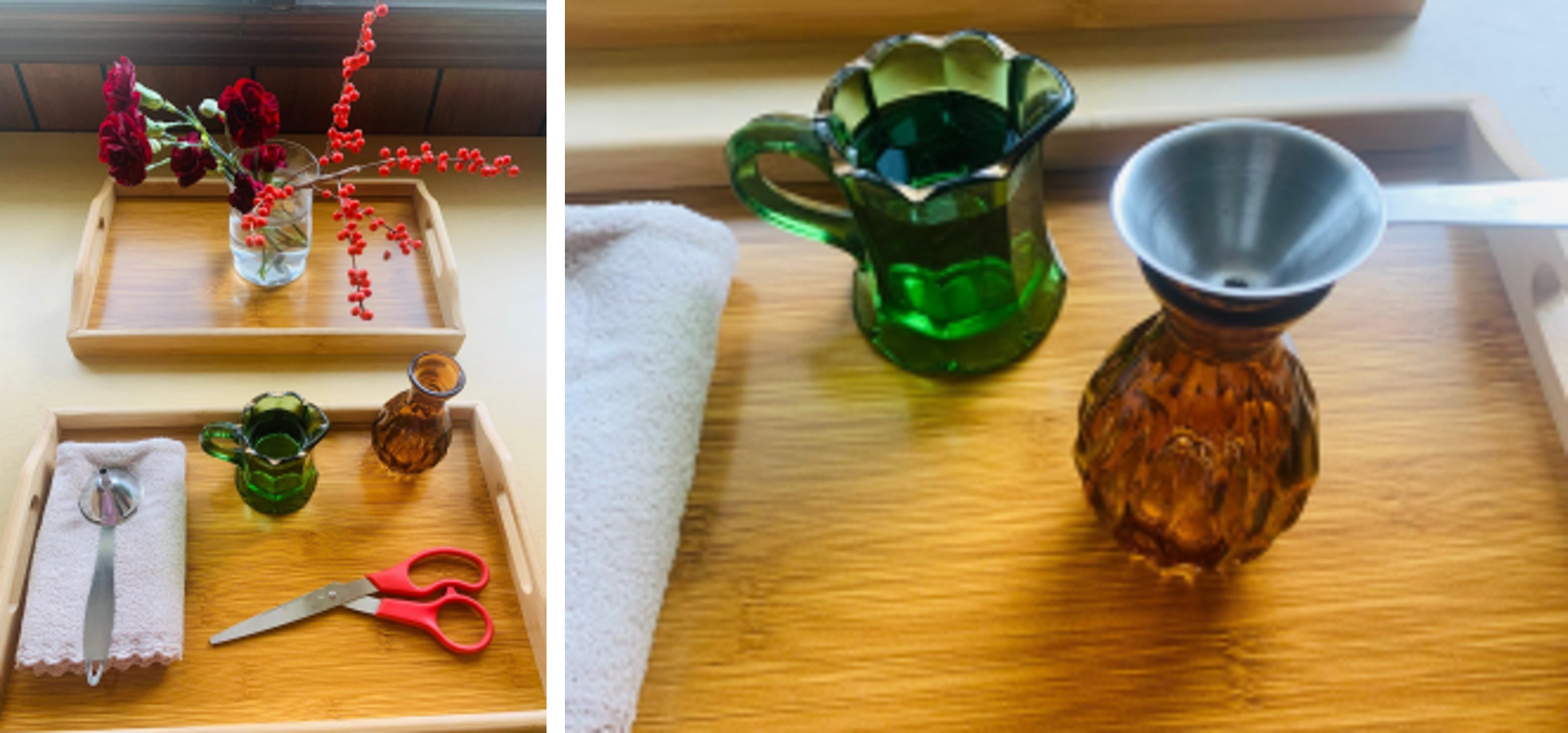 ---
---
---
Table Setting
What you need:
Placemats

Drinking glasses

Knifes, fork, spoons

Plates

What to do:
Show your child how to set the table and then have your child try. Once your child has a good understanding of how to set the table, allow them to do the whole table by themselves. A table setting printable is available in the Grace & Courtesy Activity Pack.
---
---
Name Cards
What you need:
Pen

Paper or cardstock

Art supplies for decorating the cards

List of names of people who will be attending Thanksgiving dinner

What to do:
Give your child a list of names of people who will be attending Thanksgiving dinner. Next, fold the paper or cardstock in half so the name card is freestanding and then flatten the paper out so your child knows where to write.
Now, have your child write each name on the paper. You may even offer your child to choose where people will sit by placing the name card on the plate they just set.
---
---
Feather in the Top
What you need:
Feathers

Parmesan cheese shaker (this type of container works best) or pepper shaker
What to do:
Show your child how to place the feathers in the hole on the shaker one at a time.
Allow your child to try. Once your child has an understanding of what to do, you may let them work independently. Add a decorative ribbon and this can make a beautiful accent piece in the Thanksgiving table display.
---

---
---
Water Transfer
What you need:
Towel

Two small cups, glasses, or bowls

Dropper

Optional: food coloring or natural coloring agent (ex: turmeric, beet powder, red onion peels)

What to do:
Place a small amount of water in one container. If you wish, add fall-inspired food coloring. Now, show your child how to move the water to the other empty container using the dropper. If a single drop spills on the work space, IMMEDIATELY stop and wipe the spill up. This teaches the child to be mindful of messes and to clean up after themselves. This task may seem simple but there is a lot of learning within this single activity. It teaches the child patience from watching the drop leave the dropper. It slows the child's mind and body by using the dropper to move the water instead of pouring. It also shows the child how suction works.
---
---
---
I hope these Thanksgiving activities have inspired you to bring some Montessori-style learning into your homeschool. Please feel free to share your homeschool adventures with these Thanksgiving-inspire works on Facebook or Instagram #ShillerLearning. Here is a photo of our seasonal shelf.
---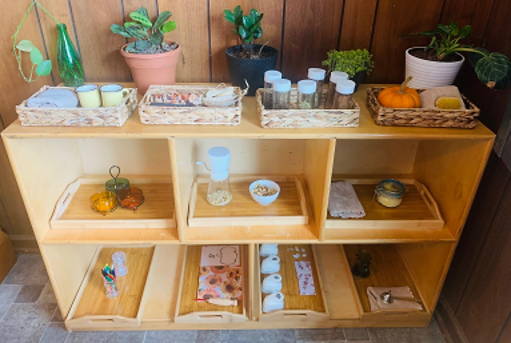 ---
Check back soon for more inspiring Montessori ideas.

From our family at Shiller Learning to yours, Happy Thanksgiving!
---
Jessica Zahner has been working in education for 15 years - in both AMI and AMS Montessori schools. Assisting children with learning challenges, including students on the Autism Spectrum and other at risk students, is one of her specialties. As a homeschool mom she and her daughter are traversing the unique experience of home education of an only child. Jessica is fondly known for her passion for Practical Life and loves teaching parents why and how these skills are foundational for their children. The Zahners live on a working ranch and enjoy farming, gardening, and country life. When not caring for their livestock, enjoying practical homeschooling with her daughter, or working with Shiller Learning customers, you might find Jessica enjoying a perfectly brewed cup of tea from herbs grown in their abundant tea garden.
---
See inside our open 'n' go Montessori-based homeschool kits