With the sound of rustling leaves underfoot, Halloween comes to an end and your little goblin is gearing up for the big gobble day. Thanksgiving is just around the corner. Crisp weather, blazing fall foliage, and the aroma of pumpkin spice delight young and old alike. Bringing autumn into the homeschool is a beautiful way to engage children.
---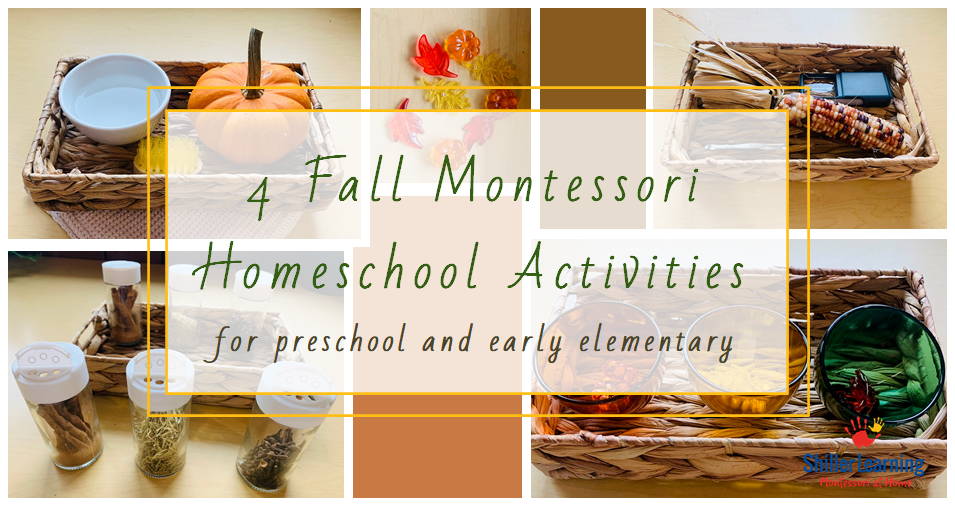 ---
4 Fall Montessori Homeschool Activities
for preschool and early elementary
---
Here are a few simple-to-pull-together activities, perfect for adding the season to homeschool days or windy weekends with preschool and early elementary students. Children of all ages - and even Thanksgiving guests - may enjoy working with the smelling jars.
These Montessori-based activities engage fine motor, classification, and critical thinking skills. The sensory integration is important for brain development and makes learning fun!
---
Sorting Tray

Materials:
Small basket or tray that can be carried by the child
3 bowls or similar containers
Fall filler material that can be sorted by color or object
Optional: tweezers or tongs for moving the materials
Children love to sort objects. For this activity you'll need three different objects that come in a set. I used what is called vase filler, found at the local craft store. If you wish, take your child on a nature walk and collect items such as different colored leaves, acorns, pinecones, twigs, feathers, etc. You can also use assorted nuts.
Show your child how to sort the materials and then allow your child to try.
You can make this challenging by simply having three different sizes of twigs. Have the child sort the twigs based on the size. This would be a great opportunity to work on words groups such as "big, bigger, biggest," "small, smaller, smallest," "small, medium, large," "thin and thick," or "short and tall."
---
---
Smelling Jars

Materials:
Small basket or tray
6 or more clear glass or plastic spice containers
3 or more spices
Optional blindfold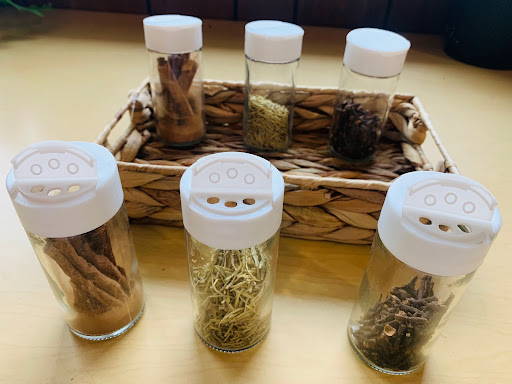 There is a mystery about smelling objects we are unfamiliar with. It's fun to satisfy our curiosity through our senses. Scents have a powerful effect on memory. There are certain smells that can evoke memories decades old. Select aromas that remind your family of autumn, such as cinnamon, nutmeg, cloves, dried oranges, pumpkin spice, celery seed (think Thanksgiving stuffing) or even crumbled dried leaves from the yard.
In this demonstration, I used 3 spices. For each selection, fill two jars with enough material to provide scent. Shown are 6 jars total, with 3 spices placed in 2 jars each.
Invite your child to join you. This activity can be done at a table on the floor. Use a 3-finger grip when holding each jar. Take each jar out and line them horizontally from left to right. Starting with the far left bottle, look at each spice together, name it, note it's characteristics, holding the jar beneath your nose generously inhale the aroma. What does the scent remind you of?
Note that each spice is in two jars. Mix the two sets of jars into random order. Put the blindfold on yourself and demonstrate matching the jars by scent. Remove the blindfold and check your work.
Offer the blindfold to your child, randomly mix the order of the jars, and ask your child to match the scents. Once the child is done, have the child check their own work by looking to see if the spices match one another based on how they look.
An alternate activity is to identify the scents by name while blindfolded or with eyes closed.
---
---
Corn Dissection
Materials:
Small basket or tray
Indian corn (there is an amazing variety available)
Tweezers
Magnifying glass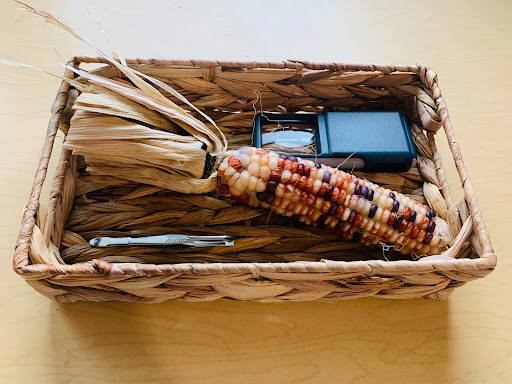 When introducing the ear of corn, encourage the child to carefully examine and appreciate the corn. The child can use the magnifying glass to see all of the beautiful details. Demonstrate how to take a kernel of corn off the cob. Allow the child to use the tweezers to take the kernels off the cob.
Older children can keep an observation journal, draw pictures of what they see and/or writing about it.
---
---
Pumpkin Washing

Materials:
Small basket or tray
Pumpkin
Scrub brush
Bowl (water can be poured into the bowl once at the workspace)
Small towel for drying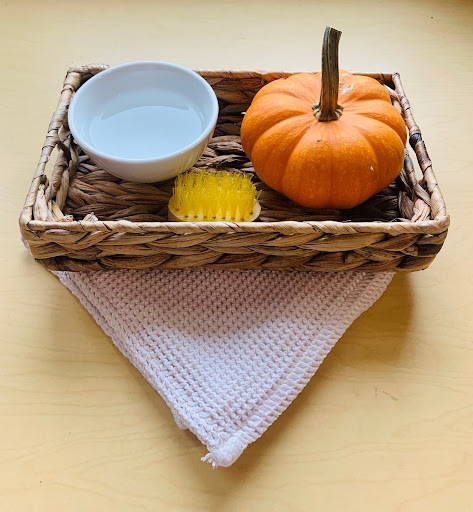 Children enjoy water works and pumpkin washing is a great addition to the fall homeschool schedule. Using a scrub brush, show the child how to wash the pumpkin. Then teach the child how to dry the pumpkin. Make sure to take extra care to clean the crevices. When the child is done, demonstrate how to clean and put everything neatly away.
We would love to see your child at work with these fall works. Tag @shillerlearning when sharing on social media.
---
Jessica Zahner has been working in education for 15 years - in both AMI and AMS Montessori schools. Assisting children with learning challenges, including students on the Autism Spectrum and other at risk students, is one of her specialties. As a homeschool mom she and her daughter are traversing the unique experience of home education of an only child. Jessica is fondly known for her passion for Practical Life and loves teaching parents why and how these skills are foundational for their children. The Zahners live on a working ranch and enjoy farming, gardening, and country life. When not caring for their livestock, enjoying practical homeschooling with her daughter, or working with Shiller Learning customers, you might find Jessica enjoying a perfectly brewed cup of tea from herbs grown in their abundant tea garden.
---